Applied Kinesiology
Dr. George Goodheart, D.C., of Detroit, Michigan, a chiropractic physician and the founder of Applied Kinesiology, first observed in 1964 that the presence of skeletal deformity and postural distortion is often associated with muscular dysfunction. The distinguishing characteristic of AK, then, is the search for muscle imbalance so that it can be corrected. In general, the Applied Kinesiology Practitioner finds a muscle that tests weak and then attempts to determine why that muscle is not functioning properly. Headaches, for example, can be traced back to problems with the neck muscles. Therapies utilized can include specific joint manipulation or mobilization, various myofascial therapies, cranial techniques, meridian therapy, clinical nutrition, dietary management and various reflex procedures. As with all holistic care, the goal of Applied Kinesiology is to restore balance to the total being.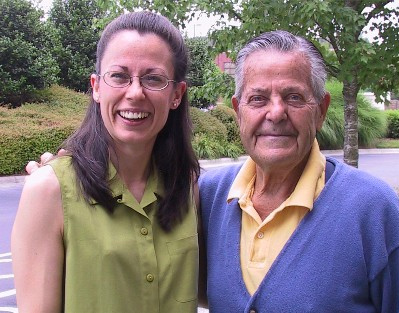 Dr. Sandrine Martin, DC with Dr. George Goodheart, DC at the 2005 Touch for Health Conference
Why Dr. Sandrine Martin?
Dr. Sandrine G. Martin, DC, DABCI has been using Kinesiology on her patients since 1994 and has performed more than ten thousand sessions on patients ranging in age from a few hours after birth to adults well into their late 80's.
With over 500 hours of training in Kinesiology, including 100 hrs of post-graduate work, Dr. Sandrine Martin has studied with the top Kinesiology practitioners in the world, learning firsthand from the founders of AK and PKP.
She is considered by many in her field to be an expert in Kinesiology.