What is TFH - Touch for Health?
As a branch of Applied Kinesiology, The Touch for Health System, developed by Dr. John Thie, DC, is a very practical methodology for improving and enhancing health by utilizing the acupuncture meridian system to balance the body's 14 energy channels, thereby improving overall well-being. TOUCH FOR HEALTH combines Traditional Chinese medicine with the modern Western approach. We test designated muscles to indicate if there is a blockage or constriction of energy flow to a meridian. Meridians are located throughout the body and serve as passageways through which energy travels. When an environmental factor or food stresses the body chemistry, specific muscles weaken, causing imbalances in the flow of energy. Structural and emotional stressors will have the same effect. With the application of kinesiology, we restore the energy flow by activating reflex points. These reflexes act like electrical switches that turn on or off the energies flowing to the muscle. This modality not only discovers where a person's energy is blocked, but also empowers clients by explaining how they can help themselves to ensure their own health.
During a Touch for Health session, the client is fully clothed in a sitting, standing, or horizontal position. Muscle testing is a cooperative venture and requires active participation on the part of the client. A session may last from 20 to 60 minutes.
Dr. Sandrine Martin is a certified Professional Touch for Health Instructor and teaches classes on TFH for the Center for Holistic Instruction, LLC.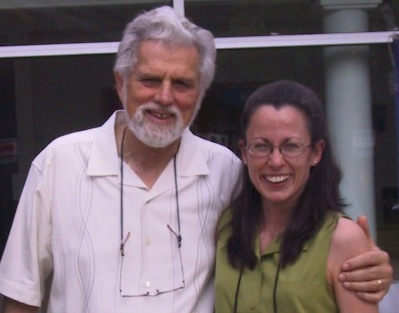 Dr. Sandrine Martin, DC with Dr. John Thie, DC at the 2005 Touch for Health Conference
Why Dr. Sandrine Martin?
Dr. Sandrine G. Martin, DC, DABCI has been using Kinesiology on her patients since 1994 and has performed more than ten thousand sessions on patients ranging in age from a few hours after birth to adults well into their late 80's.
With over 500 hours of training in Kinesiology, including 100 hrs of post-graduate work, Dr. Sandrine Martin has studied with the top Kinesiology practitioners in the world, learning firsthand from the founders of AK and PKP.
She is considered by many in her field to be an expert in Kinesiology.